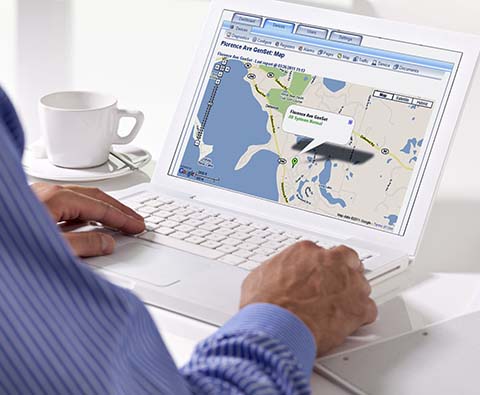 LogMyData® is ideal for remote monitoring of unattended standby power generators and other remote unattended equipment. Your dashboard is wherever you are! Whether you need to monitor many alarms spread over a large area, or just one located across the street, the LogMyData devices and servers will simplify your job.
• Physical points directly monitored by i.Report
• Access additional equipment via Modbus RTU
• User programmable alarm limits
• Flexible rule template programming
• Some models freely programmable
• Periodic data point reporting
• Event driven alarm reporting
• SMS, email, voice notifications
• Google Maps dynamic interface
• Geo-fencing with notification of fence broken
Why Do I Need to Sign Up for a Remote Monitoring Service Subscription?
A service subscription is what makes the remote monitoring device useful (unless you create your own web server). The monitoring devices report to the server. The server then distributes notifications to the appropriate recipients via SMS text message, email, and/or voice call. Multiple users may be included in a notification group. In addition, the server supports notification escalation. The escalation means that if the original intended recipient does not respond to the alarm, additional recipients begin to receive the repeat notifications.
What Does a Central Server Do for Me?
If you are monitoring multiple sites, the central server provides a convenient way to check on the status of all your sites with just one web login. It also provides a convenient way to manage your alarm notification recipient list. For example, you can change the notification recipient phone number for 100 sites with one login and one change.
Even you have only a single site, the central server offers a much more user friendly way to access notification information, change alarm limits, and check on status of your device.
The central server also offers an additional level of security. It is constantly monitoring whether the remote monitoring device is still reporting. If the remote device ever stops reporting, it will notify you that something might be wrong with the monitoring system itself. A monitoring device all by itself does not have the ability to provide this level of security.
How Are Service Subscriptions Sold?
Subscriptions are sold on a per-site rate per month, renewed annually. The base monthly subscription covers web portal service for that site. Additional monthly fees are based on usage of air time for data via cellular, SMS message origination, and voice call origination. Cellular data is available in plans ranging from 1MB/month to 50MB/month. Plans as high as 2GB/month are technically available, but you will typically not have any realistic need for that rate if you are taking advantage of the trending features of the remote monitoring devices themselves.
How does the web portal work?
You will receive your own account login on one of our servers. Once your devices are commissioned, they will begin reporting data, and sending you notifications when there is an event you want to know about. You may have multiple users, and you may direct notifications of certain events to certain users or user groups.
The devices will continuously monitor data and periodically report data to the server. When an event occurs, the device will contact the server immediately. The server will then check its database to see who wants to know about this event. The server will send notifications to cell phones or email addresses.
How Many Different Devices Can I Have Assigned to My Account?
You can have any number of devices or sites assigned to your account. Furthermore, you can mix cellular stationary sites, cellular mobile sites, and wired Internet sites all under the same account. You can monitor everything in your enterprise through one user friendly login.
What does the Tracking Package do?
The tracking version of i.Report, and its web portal offering, is designed for geo-fencing for portable equipment. When your equipment arrives at the job site, you log into the portal, and save the current position as "home". If the GPS tracking detects that the equipment has moved outside of a radius known as the geo-fence, you immediately receive an alert. Furthermore, the i.Report will continue to report its new position periodically so you can track where it went.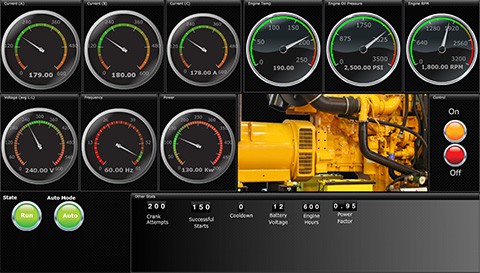 LogMyData Now Features Powerful Graphics!
The LogMyData web portal provides access to DGLux visualization. For a small additional charge, you can unlock the design tools and create your own stunning graphics. The design tools are drag-and-drop and even binding data from your device is a simple drag and drop. No code writing is necessary.
The web portal provides a top level view that shows you, at a glance, the status of all of your monitored sites.

Click on any site listed and you can quickly check sensor levels at a glance. More complex viewing options are available in addition to the default bar graphs.

The Google Maps view can show the locations of all of your monitored sites, and when you click on a site icon, a bubble pops up with key information displayed. You may select what information will be in this bubble.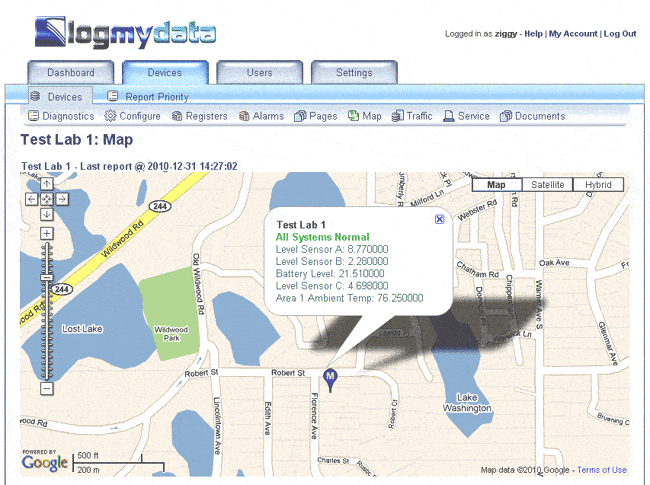 Online plotting of real time data is available.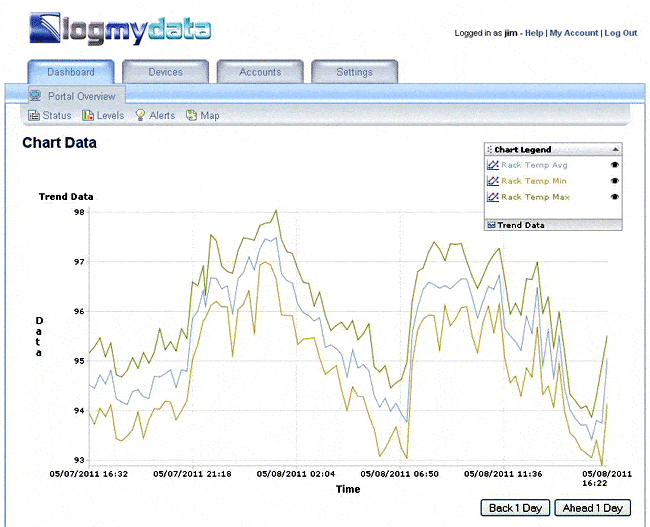 Extensive support for remote Over-The-Air configuration of the remote monitoring device is provided.