Get instant quotes online, or place an order...
Shop Online Now
Want to see what's new?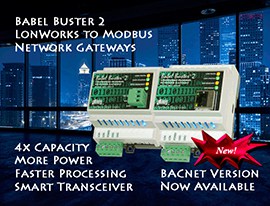 These LonWorks gateways are BACnet or Modbus servers (or slaves) that function as LonWorks device managers, connecting LonWorks devices to a BACnet or Modbus network without binding or other external LonWorks network management. These gateways are intended to extend the life of legacy LonWorks equipment while updating the primary network to BACnet or Modbus.
Check out the link below to find out more about these gateways:
For MS/TP networks: BB2-3020-NB
For BACnet IP networks: BB2-7020-NB
For Modbus RTU networks: BB2-2010-NB
For Modbus TCP networks: BB2-6020-NB
Visit our Gateways Selection Page

Babel Buster BB2-3060 is a fully configurable universal BACnet MS/TP to Modbus TCP gateway. The Babel Buster BB2-3060 is a TCP client (master) used to make multiple Modbus TCP devices accessible on a BACnet network. The BB2-3060 is also capable of acting as a BACnet MS/TP client and Modbus TCP server (slave), allowing BACnet devices to be connected to a Modbus network. The BB2-3060 can also be MS/TP slave and Modbus slave at the same time for putting industrial PLC's on a BACnet network.

Babel Buster® BB2-2010 is a standard (bindable) LonWorks® node that functions as a Modbus RTU RS-485 master/slave. A large number of data objects gives you flexibility in mapping Modbus registers to scalar or structured LonWorks network variables. A single structured network variable maps to multiple Modbus registers.
Additional models are designed to put Modbus TCP devices on LonWorks networks, as well as BACnet IP or BACnet MS/TP devices on LonWorks networks.
Welcome to our new mobile friendly web site. We have put a lot of effort into streamlining our web site along with making it mobile friendly. We have reproduced all videos to convert from Flash based to MP4 video that plays on any smart phone. We have reformatted all online user guides so that they can be viewed on any device. We will be updating the Knowledgebase and Support Ticket system in the future to improve their useability from anywhere as well.
Thank you for visiting!