Control Solutions' BAS-700 series brings the power of the i.CanDoIt Modbus web server to a modular bare board form factor. This system is most cost effective for high point counts that exceed the capacity of the AddMe or ValuPoint family.
The BAS-700 can also be used as a Modbus TCP slave I/O device or for SNMP input/output. Access I/O points as Modbus holding registers. Read and write inputs and outputs using SNMP Get and Set.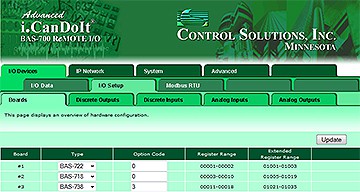 BAS-700 i.CanDoIt®
Modular I/O with Embedded Web Server
• Powerful web features
• Input point count from 4 to 192
• Output point count from 2 to 64
• Any I/O mix of up to 8 I/O boards
• Mix analog and discrete, input & output
BAS-700 i.CanDoIt® Web Server
Basic BAS-700
• Modbus & SNMP access to I/O
• Simple logic & alarms
• Rule based event reporting, SNMP v2c traps
• Modbus TCP client & server
• Script Basic
Advanced BAS-700
• Time/date scheduler
• Astronomical clock
• Data logger, event logger, email log file delivery
• Email event notifications
• User HTML wrapper
• Web client data logging & event reporting
Pricing and Buy Online provided module by module upon expanding the applicable sections below.
The BAS-730 series of Analog Input modules are configurable to accommodate 0-10VDC, 4-20mA or 10K Thermistor inputs, with each channel individually configurable.
The BAS-738/3 is useful for measurements where common floats at some voltage other than ground. The BAS-738/3 has socketed range resistors and provides isolated inputs (isolated channels to system, non-isolated channel to channel). The BAS-738/3 is useful where common floats at some level other than system ground, and can be used to take measurements in -48VDC telecom applications.
The BAS-742 Analog Output module is designed to provide the common 0-10VDC or 4-20mA output levels for process control. The output types are individually configurable per channel.
Snap track is a commonly used method of mounting circuit boards inside control panels. This method is most commonly found in building automation and facility management. Because it can be cut to any length needed, it is especially suited to the BAS-700 series with its endless possibilities for configuration variations. Snap track comes in standard 4 foot lengths. Control Solutions also stocks 2 foot and 1 foot lengths, and will custom cut (down from 48 inches) to any desired length.
Use the BAS-EXT Track Adaptor to expand your panel mounting options. The adapter allows back to back track mounting, or mounting parallel tracks one above the other that electrically become one. (Note: Polarity matters. Do not use if you do not understand ribbon cable polarity. You will damage circuit boards with incorrect installation.)
The rack mount option for the BAS-700 series provides room for a smaller system, occupying less space. A power-on indicator is included on the front panel. (Circuit boards excluded.) The rack kit is intended for prototype use. If you are interested in a production design, please contact sales@csimn.com to discuss design details for a quote.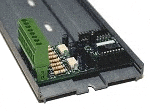 BAS-700 Snap Track Mounting
• Low cost substitute for DIN rail mounting
• Simply screw track to panel or enclosure
• Simply snap in boards and slide together
• Cut track to length - shipped in 4' sections
• Exact lengths cut to order
• All modules 3.25" high
• All wiring done via plug-in screw terminals at bottom of track
• Expansion bus handles up to 8 I/O modules per processor
• Nodes can be virtually any size
• Bus includes power, reset, decoded selects, Neurowire® bus
• Bus accepts custom OEM and third-party modules
Snap track is sold as a convenience to Control Solutions customers who are purchasing BAS-700 series boards with the track. If you are looking for snap track alone for your own applications unrelated to BAS-700, you may purchase it directly at www.beyondcomponents.com.
Order codes: BASTK12, BASTK24, BASTK48
List prices: $6.50, $13.00, $26.00
Your prices: $5.00, $10.00, $20.00
Log in for Wholesale

BAS-EXT Track Adapter
• Provides ribbon cable connector to break system into 2 tracks
• BAS-EXT/2 includes 2" cable, BAS-EXT/6 includes 6" cable
• Use 2" cable for back to back tracks
• Use 6" cable for over-under tracks
• Snap track mounting, 3.25"H x 0.70"W
Order codes: BASEXT2 and BASEXT6
List prices: $24.00 and $32.00
Your prices: $19.00 and $25.00
Log in for Wholesale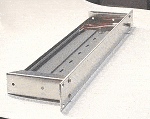 BAS-700 Rack Mount - 1U Unfinished
• 19-inch 1U rack for BAS-700 snap tracks
• Natural aluminum construction
• Front panel can be customized
• Useable track length 13" (included)
Order code: BASR1U
List price: $239.00
Your price: $189.00
Log in for Wholesale


• BAS-700 Hardware User Guide
• BAS-700 Web User Guide
• BAS-700 Power Consumption Data


• BAS-700 Sensor Scaling Spreadsheet
Zip file contains spreadsheet that simplifies calculation of scale factors for analog I/O.


• Modbus Tutorial
Introduction to Modbus, including function codes, exception codes, register numbering.

Our most extensive technical support is provided by the same engineering staff that developed the products. Your personal attention from this staff is available via the support ticket system.
No user/password is required to open a new ticket. Once you open a ticket, you will immediately receive an email with your ticket number. Your ticket number becomes your login to review your ticket(s) later. Click the Support Ticket icon anywhere you see it. (If you do not get an email with your ticket number, within minutes, check your junk folder, spam settings, etc, and try again if necessary.)
Open a Ticket