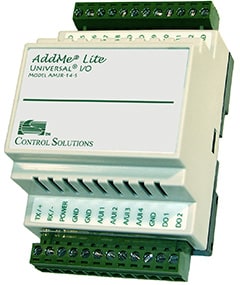 Control Solutions' Model AMJR-14-SM AddMe® Lite Programmable I/O for Modbus RTU is a network I/O device that makes an excellent slave I/O device. The AMJR-14-SM can also function as a stand-alone soft PLC.
AddMe Lite Series
Model AMJR-14-SM
Network I/O for Modbus RTU
• 12 Analog/Universal Inputs
• 2 Discrete Outputs
• Modbus RTU Slave
• Freely Programmable

AddMe® Lite Network I/O
Powerful. Flexible
Economical. No Software to Buy.
Free Graphical Programming Tools.
Easy to Configure Yourself.
AddMe® Lite AMJR-14-SM Network I/O for Modbus RTU
Order code: AJ14SM
List price: $385.00
Your price: $310.00
Log in for Wholesale