The Babel Buster BB2-3010 Modbus to BACnet gateway allows Modbus RTU devices to communicate with BACnet MS/TP devices. Modbus registers may be accessed as BACnet objects, and BACnet objects may be read as Modbus registers. The Modbus to BACnet gateway acts as a translator, or protocol converter, between the two networks.
The Modbus to BACnet gateway may be configured to operate as a Modbus master or a Modbus slave. As a master, the Babel Buster BB2-3010 will continuously poll Modbus RTU slaves according to the register list you provide, and save the register data in BACnet objects. Those BACnet objects may then be read by other BACnet devices. When desired, writing to BACnet objects results in writing to Modbus registers.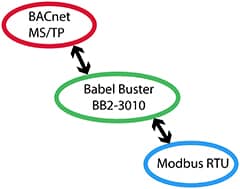 The Babel Buster BB2-3010 may also function as a BACnet to Modbus gateway, continuously polling BACnet devices according to the object list you provide. The gateway will save the object data and allow a Modbus RTU master to poll that data as Modbus registers.
Feature Highlights
• Connect Modbus RTU Devices to BACnet MS/TP Network
• Connect BACnet MS/TP Devices to a Modbus RTU Network
• Subscribe to COV on Changes from Modbus or BACnet
• Up to 300 BACnet Objects and 300 Modbus Registers
• BACnet Input, Value, Output objects for Analog, Binary, Multistate
• Up to 300 Modbus Registers as Coil, Discrete, Input, Holding
• MS/TP baud rates: 9600, 19200, 38400, 76800
• FCC, CE Mark, BTL Listed
• Software Included, No Drivers to Buy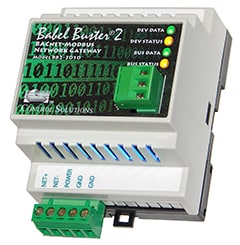 Babel Buster BB2-3010 BACnet MS/TP to Modbus RTU Gateway
Order code: BB2-3010
List price: $498.00
Your price: $399.00
Log in for Wholesale
Hardened RS-485 Modbus port standard
Isolated RS-485 Modbus port optional
RS-232 Modbus port optional