The Babel Buster BB2-3020-NB LonWorks to BACnet gateway is used to connect LonWorks devices to a BACnet network without binding or LonWorks network management outside of the gateway's own capabilities. A large number of data objects gives you flexibility in mapping BACnt objects to scalar or structured LonWorks network variables. Multiple data objects may be mapped a single structured LonWorks network variable. Input, Output, and Value objects are supported for BACnet Analog, Binary, and Multi-state object types.
The BB2-3020-NB LonWorks to BACnet gateway will poll LonWorks network variables periodically to read LonWorks data, or upon change in value, will write LonWorks data. Data read from LonWorks will be placed into BACnet Input or Value objects. Data written to BACnet Output or Value objects will be written to LonWorks network variables.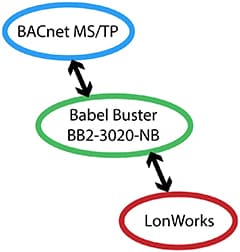 The BB2-3020-NB LonWorks to BACnet gateway is most often used as a BACnet MS/TP server, providing LonWorks data to BACnet clients such as a building management system. The BB2-3020-NB can also be configured as a BACnet MS/TP client, automatically reading and writing BACnet objects in other BACnet devices to share LonWorks data.
Feature Highlights
• Connect LonWorks Devices to BACnet MS/TP Network
• Non-Bound Polling of LonWorks Devices
• BACnet MS/TP client or server
• Up to 300 Network Variables
• Up to 300 BACnet objects
• USB connection directly to PC for configuration
• Configuration software provided at no extra charge
• FCC, CE Mark, UL 916 Listed
• Software Included, No Drivers to Buy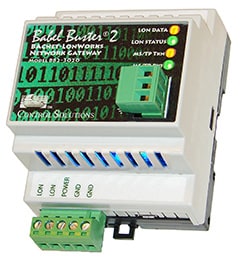 Babel Buster BB2-3020-NB BACnet MS/TP to LonWorks® to Gateway
Order code: BB2-3020-NB
List price: $625.00
Your price: $495.00
Log in for Wholesale
Are you going in the right direction?
The BB2-3020-NB puts a LonWorks device on a BACnet network. Do you need to put a BACnet device on a LonWorks network instead? If so, you want the BB2-3020 (no -NB).