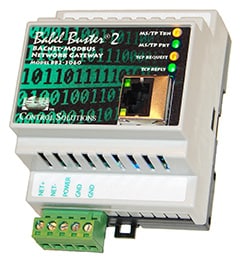 Control Solutions' Babel Buster® BB2-3060 is a fully configurable universal Modbus TCP to BACnet MS/TP gateway. The Babel Buster BB2-3060 is a TCP client (master) used to make multiple Modbus TCP devices accessible on a BACnet network. The BB2-3060 is also capable of acting as a BACnet MS/TP client and Modbus TCP server (slave), allowing BACnet devices to be connected to a Modbus network.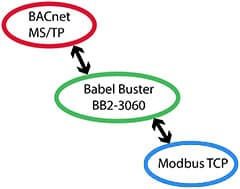 • BACnet MS/TP Client & Server
• Modbus TCP Client & Server
• Connect Modbus Devices to BACnet Network
• Connect BACnet Devices to a Modbus Network
• Subscribe to COV on Modbus Changes
• Subscribe to COV on MS/TP Slave Changes
• Up to 300 BACnet Objects
• Up to 300 Modbus Registers


Babel Buster 2 Network Gateways
More Power. More Capacity.
More Features. Less Expensive.
No Drivers to Buy.
Easy to Configure Yourself.
Babel Buster BB2-3060 BACnet MS/TP to Modbus TCP Gateway
Order code: BB2-3060
List price: $655.00
Your price: $525.00
Log in for Wholesale
Buy BB2-3060 Online Now!