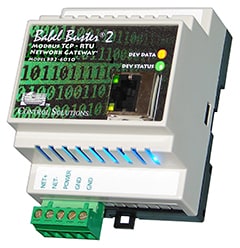 Control Solutions' Babel Buster® BB2-6010-GW is a transparent gateway for connecting Modbus RTU devices to Modbus TCP and vice versa without mapping individual registers.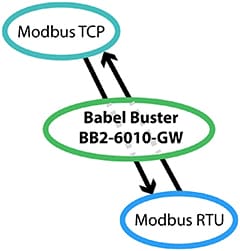 • Encapsulates RTU packets in TCP packets
• Extracts RTU packets from TCP packets
• Can map multiple RTU devices to single TCP IP address
• Universal, fully configurable
• No extra software or drivers to buy
• Configured via internal web server


Babel Buster 2 Network Gateways
More Power. More Capacity.
More Features. Less Expensive.
No Drivers to Buy.
Easy to Configure Yourself.
Babel Buster BB2-6010-GW Modbus to SNMP Gateway
Order code: BB2-6010-GW
List price: $629.00
Your price: $495.00
Log in for Wholesale
Buy BB2-6010 Online Now!