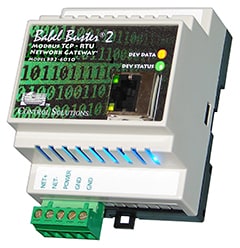 Control Solutions' Babel Buster® BB2-6010-Web is a special purpose Modbus gateway for remote monitoring of anything Modbus. Connect a BB2-6010-Web to the LogMyData® web portal via wired Internet, or via a cellular router shared with IP cameras and other network devices.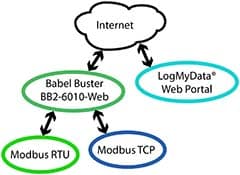 • Web Based Monitoring of Anything Modbus
• User defined alarms and alerts
• Report on change, report trends
• Notifications via text, email, voice
• Modbus RTU master or slave
• Modbus TCP client and server
• Script Basic programming built in
• LogMyData® web portal support


Babel Buster 2 Network Gateways
More Power. More Capacity.
More Features. Less Expensive.
No Drivers to Buy.
Easy to Configure Yourself.
Babel Buster BB2-6010-Web Modbus to Web Portal Gateway
Order code: BB2-6010-Web
List price: $655.00
Your price: $525.00
Log in for Wholesale
Buy BB2-6010-Web Online Now!