The Babel Buster Pro V210 Trap Receiver for Modbus puts SNMP trap information into Modbus registers. The template driven trap receiver provides multiple algorithms for recognizing traps, and can easily place trap information into holding registers for Modbus access. If more complex treatment of trap information is needed, such as character string interpretation, Script Basic can be used to process traps and place resulting data into Modbus registers.
Babel Buster Pro V210 Trap Receiver includes an automatic table walker with multiple algorithms making it suitable for walking the sparse alarm table found in UPS systems implementing RFC 1628. The table walker can easily translate the alarm table into a series of Modbus coils for easy access by a PLC.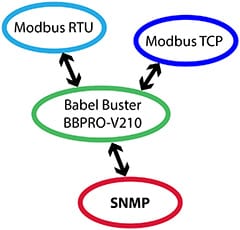 Babel Buster Pro V210 Trap Receiver for Modbus is a Modbus to SNMP gateway including Modbus TCP client and server, and Modbus RTU configurable as master or slave. The Pro V210 includes an SNMP client, and server with its own MIB that you map Modbus registers to. The Pro V210 can readily exchange data between Modbus and SNMP devices.
Feature Highlights
• SNMP trap receiver, template driven or fully programmable
• Automatic SNMP table walker
• Connect Modbus RTU and TCP devices to SNMP
• Connect SNMP devices to Modbus TCP or RTU networks
• SNMP v1, v2c client and server
• Configured via internal web server
• FCC, CE Mark, UL 916 Listed
• Software Included, No Drivers to Buy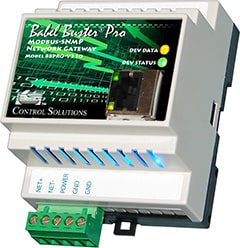 Babel Buster Pro V210 Modbus to SNMP Gateway
Order code: BBPRO-V210
List price: $775.00
Your price: $629.00
Log in for Wholesale
Modbus RTU is RS-485 on standard model. RS-232 is also available. Select the transceiver option when you place your order; price is the same.