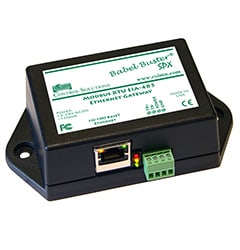 Control Solutions' Babel Buster® SPX is a Modbus to SNMP gateway that functions as a Modbus master or slave, and SNMP client or server. The purpose of the SPX is to connect Modbus devices to SNMP, or connect SNMP devices to a Modbus network. The SPX can also be used to remap Modbus RTU to Modbus TCP or vice versa.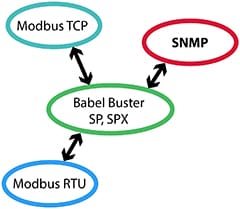 • Connect Modbus Devices to SNMP
• Connect SNMP Devices to Modbus Network
• Modbus RTU master or slave
• Modbus TCP client and server
• SNMP v2c client and server
• Universal, fully configurable
• No extra software or drivers to buy
• Configured via internal web server

Babel Buster Network Gateways
More Power. More Capacity.
More Features. Less Expensive.
No Drivers to Buy.
Easy to Configure Yourself.
Babel Buster SPX Modbus to SNMP Gateway
Order code: BBSPX
List price: $459.00
Your price: $369.00
Log in for Wholesale
Buy BBSPX Online Now!