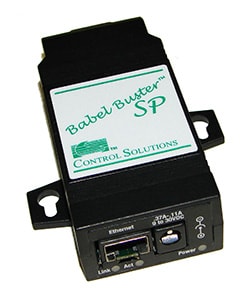 Control Solutions' Babel Buster® SP Custom lets you create your own gateway. Designed to interface devices with a proprietary RS-232 ASCII protocol (or RS-485 protocol), the proprietary part of the protocol is user programmed using the built-in Script Basic.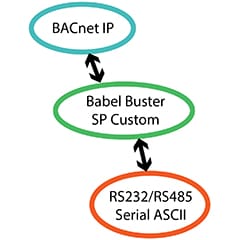 • BACnet IP server
• RS-232/RS-485 serial port
• Script Basic user programming
• Universal, fully configurable
• No extra software or drivers to buy
• Configured via internal web server

Babel Buster Network Gateways
More Power. More Capacity.
More Features. Less Expensive.
No Drivers to Buy.
Easy to Configure Yourself.
Babel Buster SP Custom Gateway
Order code: BBSPCU
List price: $699.00
Your price: $559.00
Log in for Wholesale
Buy BBSPCU Online Now!