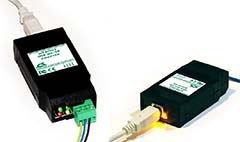 Control Solutions' Model MTX002 is a USB to MS/TP port adapter. It allows connecting to MS/TP devices via the USB port on your PC. The MTX002 is intended primarily as an aid in configuring specific Control Solutions devices, but can be used with Control Solutions software to browse any MS/TP device.
MTX002 USB to MS/TP Adapter
• Intelligent adapter off-loads token passing from PC
• Operates as MS/TP client in device configuration mode
• RS-485 pass-through mode for Modbus RTU diagnostics
• Firmware upload mode for device updates
• Supports 9600 through 76800 baud
• Supports packet capture for Wireshark analysis

MTX002 Supports Babel Buster 2 Network Gateways
Lets your PC connect at 76800 baud - not possible with standard PC COM port but totally possible with MTX002.

MTX002 USB to MS/TP Adapter
Order code: MTX002
List price: $235.00
Your price: $186.25
Log in for Wholesale