The Babel Buster BB2-2010-NB LonWorks to Modbus gateway is used to connect LonWorks devices to a Modbus network without binding or LonWorks network management outside of the gateway's own capabilities. A large number of data objects gives you flexibility in mapping Modbus registers to scalar or structured LonWorks network variables. Multiple registers may be mapped a single structured LonWorks network variable. Modbus holding registers, input registers, discrete inputs, and coils are supported.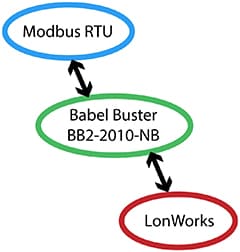 The BB2-2010-NB LonWorks to Modbus gateway will periodically poll LonWorks network variables to read LonWorks data, or write network variables upon change in value (or periodically if chosen). Data read from LonWorks will be placed into Modbus registers. Data written to Modbus registers will be written to LonWorks network variables.
Feature Highlights
• Read/Write LonWorks Network Variables as Modbus registers
• Non-bound Polling of LonWorks Devices, no network management tools required
• Modbus RTU Master or Slave
• Up to 300 Network Variables, supports structured variables
• Up to 400 Modbus registers, supports coil, discrete input, input and holding registers
• Free configuration software, download from csimn.com
• Software Included, No Drivers to Buy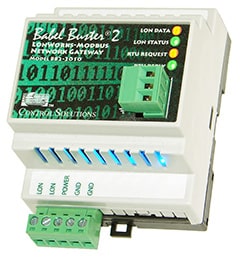 Babel Buster BB2-2010-NB Modbus® RTU RS-485 to LonWorks® Gateway
Order code: BB2-2010-NB
List price: $625.00
Your price: $495.00
Log in for Wholesale
Are you going in the right direction?
The BB2-2010-NB puts a LonWorks device on a Modbus network. Do you need to put a Modbus device on a LonWorks network instead? If so, you want the BB2-2010 (no -NB).