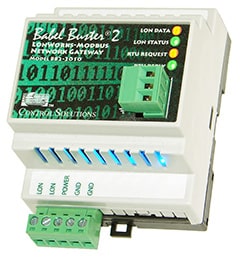 Control Solutions' Babel Buster® BB2-2010 is a LonMark Certified LonWorks® node that functions as a Modbus RTU RS-485 master/slave. The purpose of the BB2-2010 is to connect Modbus devices to a LonWorks network.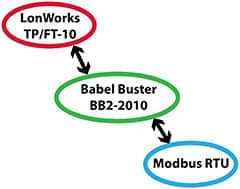 • Connect Modbus Devices to LonWorks Network
• Standard Managed LonWorks Node
• Modbus RTU Master & Slave
• 120 Network Variable Inputs
• 120 Network Variable Outputs
• Up to 400 Modbus registers
• Universal, fully configurable
• No extra software or drivers to buy
• Free configuration software


Babel Buster 2 Network Gateways
More Power. More Capacity.
More Features. Less Expensive.
No Drivers to Buy.
Easy to Configure Yourself.
Babel Buster BB2-2010 LonWorks® to Modbus® RTU RS-485 Gateway
Order code: BB2-2010
List price: $625.00
Your price: $495.00
Log in for Wholesale
Buy BB2-2010 Online Now!